401k Plan Sponsor Tool Packages
Packages

Includes

Set-Up

Annual

Gold Package


401k-Checkup Tools for Plan Committee & Employees


Custom 401k-Checkup Tool for Plan Committee Members
• Instant access to a fully functional 401k-Checkup tool for all Committee Members.
• Combine your present 401k options with up to 15 additional open choices from our database.
• Gain access to tens of thousands of investment options to assist in your discussions & decision making.
• Consider risk, return and correlation in designing and building your portfolio.
• All investment data is updated monthly.
Click HERE to see a sample 401k-Checkup Advanced Report for Plan Committee Members
• Request available Advanced Scan Reports over 3, 5 & 10 year periods with added 'Stress test" changing the scanner probability distribution to Cauchy to better simulate "fat tails" & Black Swan events.
• Fund Correlation report identifies amount of diversity within the portfolio.
Custom 401k-Checkup Tool Page for Your Employees
• Easy to use tool with all of your current 401k Plan options on one page.
• More informed and confident employees may increase 401k plan participation.
• Choose between a nominal, one time fee or FREE access for your employees!
A little more...
• Available to meet with 401k Plan Committee.
• Available for tool demonstration meetings with any employee groups.
• Special projects & studies available.


$599

$399

Silver Package


Custom 401k-Checkup Tool for Plan Committee Members
• Instant access to a fully functional 401k-Checkup tool for all Committee Members.
• Combine your present 401k options with up to 15 additional open choices from our database.
• Gain access to tens of thousands of investment options to assist in your discussions & decision making.
• Consider risk, return and correlation in designing and building your portfolio.
• All investment data is updated monthly.
Click here to see a sample 401k-Checkup Advanced Report for Plan Committee Members
• Request available Advanced Scan Reports over 3, 5 & 10 year periods with added 'Stress test" changing the scanner probability distribution to Cauchy to better simulate "fat tails" & Black Swan events.
• Fund Correlation report identifies amount of diversity within the portfolio.
A little more...
• Available to meet with 401k Plan Committee.
• Available for tool demonstration meetings with any employee groups.
• Special projects & studies available.


$399

$249

Bronze Package


Custom 401k-Checkup Tool Page for Your Employees
• Easy to use tool with all of your current 401k Plan options on one page.
• More informed and confident employees may increase 401k plan participation.
• Choose between a nominal, one time fee or FREE access for your employees!
A little more...
• Available to meet with 401k Plan Committee.
• Available for tool demonstration meetings with any employee groups.



$199

$99
"A trustee's investment and management decisions respecting individual assets must be evaluated not in isolation but in the context of the trust portfolio as a whole and as a part of an overall investment strategy having risk and return objectives reasonably suited to the trust." - UNIFORM PRUDENT INVESTOR ACT, Sec. 2b.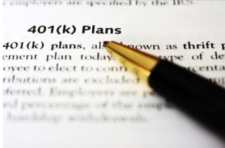 401k Plan Sponsor Tools were specifically designed with the 401k - 403b sponsor/participant in mind. Using up to 10 years of captured data and patented simulation software, 401k Plan Sponsor tools show you a range of useful data in an easy to understand picture and graph.As a sponsor, 401k-Checkup Reports can be a valuable supplement to your existing process for assessing your overall plan design given your current investment options. This can help in your quarterly plan review with your independent advisors; investigating how the plan options are working in concert and providing insight to what improvements could be considered. Having a process for analyzing your overall plan design is easier with a PSDS report.
Among the most important jobs for plan sponsors is to "stay on top of the overall plan design" and "insure your participants have the information and tools to make reasonable choices for their savings". This is not a simple task, that's where your custom 401k Plan Sponsor Tool will help. We recognize that each participant is responsible for their own choices, however their experience and understanding of the investment process varies. As a plan sponsor your efforts to design a reasonable set of plan investment options, along with informative tools is fundamental.
The test for a plan sponsor under the prudent man rule is not whether the investment succeeded or failed, but a test of conduct. The focus of an inquiry is how a fiduciary acted in selecting and evaluating the investment, rather than a test of the result of performance for the investment.