401k-Checkups™ Help Your Asset Allocation Decisions
Each 401k-Checkup™ is an easy to use, asset allocation tool to help you address important questions about your 401k or other type of retirement plan: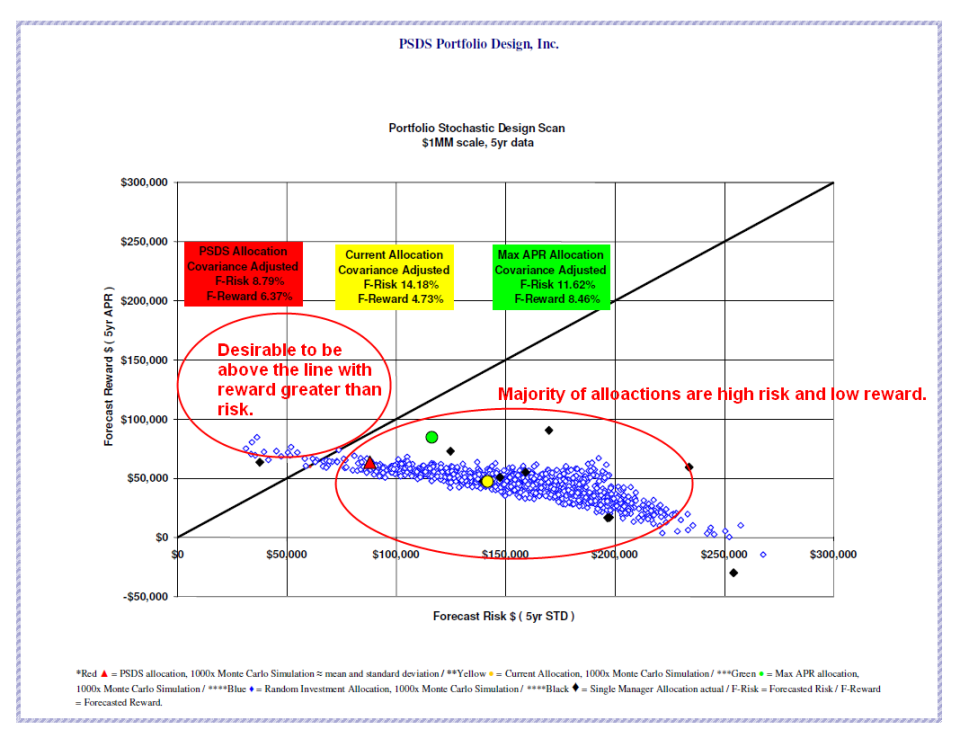 Which investment(s) added to or detracted most to my overall returns?

Which of my assets had the greatest or least price volatility?

How diverse were my assets?

How would different allocations have affected my portfolio's performance?
401k-Checkups™ do not predict the future, they re-shuffle the past by doing a stochastic modeling analysis of your specific portfolio. Now you can enjoy the benefits of advanced simulation modeling to examine a broad range of asset allocation possibilities to help with your decision making. 401k-Checkups™ are a tool to help you gain asset allocation insight and identify the strengths and weaknesses in your current 401k. Each report is an easy to understand tool with valuable information.

You Get

WHAT It Does

HOW It Helps You

Color-Coded Report in a Familiar Format
Risk-Reward comparison with easy to understand numbers and picture.
Quickly determine if you would have been able to Do Better with a different allocation.
Asset Allocation Comparison
See three different allocations:
-Your CURRENT allocation.
-Maximum Return allocation.
-Balanced(risk-reward) allocation.
Confirm your design is performing as you intended -OR- Identify different allocation options for you to consider.
Individual Asset Performance
Each investment holding is shown to identify how it helps or hurts your overall portfolio return and risk.
Easily identify investments to consider for receiving more or less of your savings.
Choose between a 401k-Checkup or an Advanced Scan
401k-Checkup examines one time period. Advanced Scan examines three time periods.
See how your investments behave differently over time for the most comprehensive analysis of your 401k plan.
401k plans are very often the most valuable asset for an individual or a family besides a home. Unlike home-ownership where you are literally in and around your investment everyday, 401k plans often go unattended for long stretches of time. 401k-Checkups give you a simple and effective way to evaluate the health of your 401k plan.
Stochastic modeling can help you determine the likelihood that your 401k portfolio will provide the performance you want! The bottom line is IF your retirement portfolio could have done better had you spread your money differently across your existing investments, wouldn't you want to know what those asset allocation were?
Now you can enjoy the benefits of advanced simulation modeling to examine a broad range of possible allocations to help with your decision making. 401k-Checkups™ give you the advantage of portfolio simulations to gain insight and identify the strengths and weaknesses of your current 401k.
Getting your 401k-Checkup™ is easy:
* Find your company link above or below and click!
– A page will open and with All YOUR Plans options filled in!
– Input YOUR portfolio/401k allocation (in percentages or actual amounts) for each investment you hold.
– Choose the Checkup/Scan you'd like and add to the cart.
– Submit and Checkout!
* If  you don't see your company…Simply click Set Up Our Plan or Get a daily session.